OUR BLOG
HOME
ABOUT US
SALES CENTER
RATES & WORKSHOPS
LOOK AT WHAT I FOUND
WHAT TO BRING
CLEANING YOUR CRYSTALS
LINKS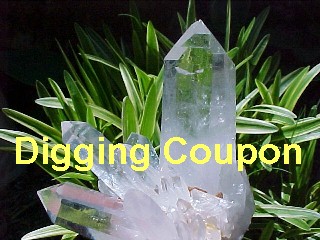 SERVICES AND CRYSTAL WORKSHOPS


PACKAGE 1
This package includes a day's dig in our new mine, where with a keen eye and a little work, you can find not only crystals (which are a natural occurrence here) but also many other minerals that we have seeded in order to create a "treasure hunt adventure" for children of all ages. Other treasures to be found may include fossils and minerals from around the world, such as rubies, sapphires, amethyst, topaz, garnet, included quartz, and geodes, as well as tumble stones, beads, foreign coins, fools gold, and real silver and gold. So bring your family, friends and metal detectors and join us in a wonderful adventure of digging crystal and treasure hunting.
The mining fee for adults 12 and up is $20 for the day, and you can keep all that you find. Children 7-11 are half price, and children 6 and under are free with a paying adult.

PACKAGE 2
For those of you who would like a "complete crash course" on crystals, we are pleased to now offer a 4 hour crystal workshop in our new mine from 8:00 am to 12:00 pm Wednesday thru Sunday. This workshop will be pre-seeded, to assimilate digging an actual "crystal pocket" so that I can more easily teach, and insure an abundant dig. As a rockhounding miner with 17 years experience, I will take you up and dig with you, teaching you about the geology of the area, what to look for, and how to dig and identify these crystals, which have so many different configurations and habits. You will keep all you dig and/or find, and you will receive our printed, laminated chart to help you identify and learn about the different formations of the as well as some of their metaphysical properties. You will also receive a printed version of the basic geology of the area, the instructions for cleaning the crystals you dig, and the acid. The cost of this workshop includes the mining fee and will be $120.00 for the first person, and $80 for each additional adult. When we are finished with the workshop, you and your party will have the rest of the day to dig and search for other crystals and minerals in the mine. This package is by appointment only, as it takes time to prepare.

PACKAGE 3
This package is a workshop geared toward children from 7-15 and includes an all day dig, including an introductory discussion about crystals and how they form, as well as a discussion on assorted minerals and fossils which can also be found in our tailings at the mine, all of which they will keep. At the end of the dig, upon return to the shop, they will receive an 8x11 certificate (with a list of the requirements they have completed) naming them honorary miners in "The Crystal Capital of the World." The cost of this workshop (including the mining fee) is $22 for children 7-11 and $33 for those who are 12 and up. These workshops are by appointment only, as they take time to prepare.
Girl Scout and Boy Scout requirements for badges and loops can also be met with this package. This workshop is geared to cover these requirements, but you needn't be a scout to do the workshop... we welcome all children of all ages!

PACKAGE 4
Some of you who want to "dig your own crystals" are just passing through and may not have the day to spend mining, or the tools to dig your own crystals. Or you may have elders or young children who might only be good for an hour our two, and not a whole day in the mine. It is for these reasons (and more) that we began building our "labor of love" tailings over nine years ago. We now have over 100 yards of "tailings" (crystal dirt) right here at our shop, which contain crystal from all the different mines we have previously dug. With a little work and a good eye, you can find jewelry points to larger points and clusters, as well as other stones. By continuously replenishing our tailings, we can provide a wonderful and easy dig for all. When you dig here with us, you are most welcome to use our tools, including screw drivers, garden tools and shovels that you may need, and we will dig with you awhile to help you have an enjoyable experience and abundant dig. We recommend that you bring gloves and wear close-toed shoes... no sandals please! There is a bathroom available on the premises, and many other services are available as well. Here, the focus is on the "joy" of the dig...we enjoy sharing our time, knowledge and crystals with all those who express a desire to learn. So, come join us in a magical adventure, even if it be for only an hour, and we promise you a memorable experience and the joy of digging your own crystal treasures. We ask $10.00/hour/person for adults 12 and up. Kids 7-11 are half price, and children 6 and under are free with a paying adult.
Special rates for families and groups of ten or more are also available. Please call or email in advance to arrange a "tailor-made" package to suit the needs and wants of your party.
SAVE 25% OFF YOUR MINING FEES FOR PACKAGE ONE!
PURCHASE YOUR TICKET BY CLICKING ON THE BANNER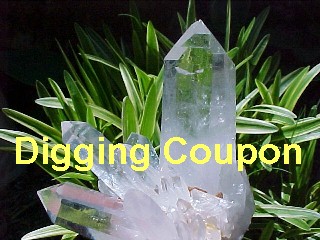 Dennis and Julie Kincaid
2568 Hwy 270 E.
Mount Ida, Arkansas 71957
870-867-4072
email~ crystalseen@classicnet.net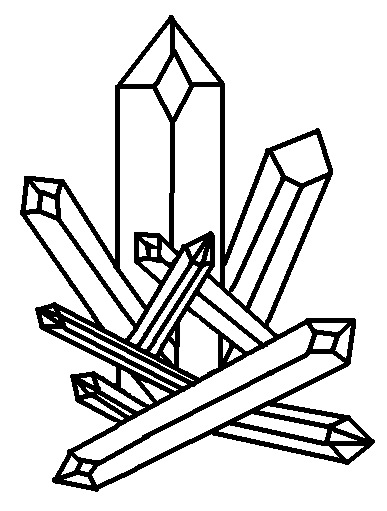 Thanks for visiting