ABOUT US
We began The Crystal Seen in Austin Tx. in 1993, shortly after our first dig in Mt. Ida, Arkansas. With a growing love, and a focus on learning the habits and properties of these crystal wonders of Mother Earth, we soon discovered that we had a natural gift for digging and working with them. Over the next five years we found ourselves in a market, where we based The Crystal Seen, and with the special needs of our clients in mind, we began to combine crystals with other stones, set in our hand-crafted gold and silver jewelry, specifically directed towards balancing the emotions, body, mind and spirit.
Then, in 1997, we purchased property just outside of Mt. Ida with the dream of someday moving and building a shop. We realized that dream when we moved there in Oct. of 1999 and opened a little shop for business that December. Times were hard, and we saw a lot of changes in the mines and in the crystal business. We decided to focus our work on teaching, working with families and groups, and doing our custom, "empowerment jewelry." And, over the last few years, we have been building our own "tailings" right here at our shop, so that we can share the experience of the "dig" with all those who are "just passing through" and might not have the time to go to the mines.
In April of 2007 we opened a new gallery of crystals, gifts and jewelry, and then during the summer and fall of 2008 we added on the "rock room". Our new gift shop, where you can find many different items, including hand-dug crystals, minerals from around the world, fine jewelry, beautiful quilts and wall hangings and hand-crafted items of all kinds, is open to the public 7 days a week. You can also have your crystal and other treasures custom wire-wrapped while you are visiting the shop.
Now as we welcome the abundant blessings of 2009, we are excited to announce that we have just purchased a rockhounding crystal mine where we have also pre-seeded other minerals, fossils and metals from all over the world to enchant and delight the child within us all. So bring your family, friends and metal detectors and come join us in a day of digging and treasure hunting that will leave you feeling like a "kid in a candy shop."
Well, folks, we sure hope you will find your way to visit us here in beautiful Mt. Ida, "THE QUARTZ CRYSTAL CAPITAL OF THE WORLD" We look forward to meeting each and every one of you, and sharing the joy of digging your own crystal with you, whether it be here at the shop or at our mine, and remember that we are a trading company, so bring lots of "trade goods" and maybe we'll do some good trading too!!!
MANY THANKS AND MANY BLESSINGS!!!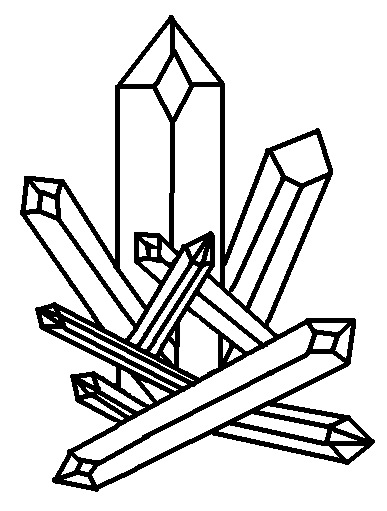 Thanks for visiting